Extract from Freshwater Biological Association news, pp4-5.
(full newsletter is not published online unfortunately, http://www.fba.org.uk/fba-news )
Citizen Scientists: guarding our rivers
Clare Gray is another CASE student which the FBA is supporting throughout her doctoral studies at Queen Mary University of London, although her primary supervisor, Dr Guy Woodward, has recently moved to Imperial College. Here, Clare sifts the good of what we can learn from the bad and the ugly of a recent pesticide catastrophe.
In July 2013 a catastrophic pesticide spill
was detected in the River Kennet, Wiltshire
UK. Chlorpyrifos, an insecticide neurotoxin
used to control arthropod pest species on
crops and in gardens, was found in lethal
concentrations in the water. Action for the
River Kennet (ARK) reported invertebrate
losses along 15km of the river, from
Marlborough to Hungerford. It appears
that the likely source was not necessarily
agricultural, but potentially domestic as it
entered the waterway through the drains
and mains water system, rather than via
diffuse run-off from the land. It is also
thought that due to the potency of the
pesticide, a very small amount, in the order
of a few teaspoons, caused this catastrophe.
What is especially interesting as a case study
into the increasing role of citizen scientists
as sentinels of our rivers is that this
devastating pesticide spill was detected by
a local voluntary organisation (ARK), rather
than a statutory monitoring agency. This
organisation's volunteers are out monitoring
the river's invertebrate life on an almost daily
basis, as part of The Riverfly  Partnership
Monitoring Initiative, and it was these
volunteers who first notified the authorities
who then set about formally diagnosing the
cause of the catastrophe. The eagerness
and enthusiasm of ARK volunteers to spend
time sampling invertebrates from the river
builds upon regular (but necessarily far less
frequent) visits by the Environment Agency,
and thus greatly increases the intensity with
which the river is checked – and the ability
to detect infrequent but acute events such
as this.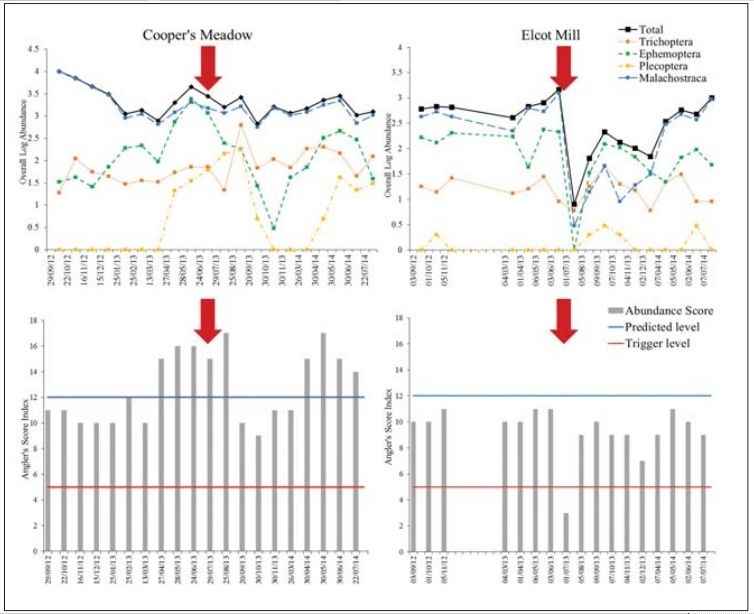 Figure 1. Action for River Kennet data showing invertebrate abundances at two sites; Cooper's Meadow which is above the spill site, and Elcot Mill which is below the spill site. Top panels show total arthropod log(abundance) and key target taxa log(abundance), bottom panels show the calculated abundance score for each site at each time point, and the Environment Agency predicted level and trigger level.
ARK began life in 1990 when local
residents came together over concerns for
the health of their river. Today they coordinate
volunteers who not only monitor riverfly
populations, but also participate in habitat
surveys, small scale restoration projects and
engaging actively with the local community
to increase awareness. Forty-four reaches of
approximately 50m of the river are monitored
by up to 30 individual volunteers, each takes
a three minute kick-net sample and records
the counts of certain riverfly key taxa. ARK
calculate an abundance score (the Angler's
Score Index) and determine if this exceeds a
site specific threshold set by the EA. If the
observed score falls below this threshold
the EA are notified immediately (Figure 1).
The use of volunteers to monitor a river
in this way allows invertebrate population
data to be collected over different seasons
and years, incorporating natural rises and
declines with different life cycles and allowing
major deviations from the expected norm to
be identified. The long term data built up by
ARK paints a picture of fluxes in invertebrate
numbers which is 'normal' for that particular
site, and if the composition of a particular
sample seems unusual it can be compared
to those taken in the same month in previous
years, as well as comparing it against what
is happening at the same time in the other
reference sites. This is essentially a BACI
(Before, After, Control & Impact) style
design, allowing significant changes in
environmental conditions at a particular site
to be identified readily.
Researchers from multiple academic
institutions and organisations became
involved in the immediate aftermath of the
spill, and have since undertaken even more
detailed and extensive monitoring in order to
better understand the short and long-term
implications for the whole food web, as the
pesticide's effects ripple outwards from the
invertebrates down the food chain into their
prey and upwards into the fishes and other
consumers at the top of the web (Gray et
al., 2014). A wide range of environmental
and biological data has now been collected
on alternate months since the spill
(Thompson et al., n.d.), which complements
the invaluable BACI-style data collected by
ARK. This study will complement and build
upon previous research into the effects of
pesticides in natural settings (e.g. Brink
et al., 1996; Wijngaarden et al., 1996) with
the aim of revealing the direct and indirect
effects of chlorpyrifos on community
structure and ecosystem functioning, as
well as the trajectory of recovery. Previous
work (e.g. Brink et al., 1996; Brock et al.,
1993; Pusey, Arthington, & Mclean, 1994)
has demonstrated the most apparent direct
effect; almost all arthropod life was killed by
the pesticide. In the ARK data immediately
after the July 2013 monitoring period there
were many records of invertebrate carcasses
below the spill and live invertebrate
abundances fell well below the EA trigger
level (Figure 1). Rarely have the effects of
chlorpyrifos been formally studied in the
field. Most work has been conducted in
the lab or in mesocosms; using indoor
mesocosms Brink et al.(1996) found that
nearly all arthropods are susceptible to
chlorpyrifos, but in particular Gammarus
shrimp populations were still supressed
up to six months later. Indeed ARK data
reflect this trend too; Malacostraca took six
months to reach pre-pesticide levels at Elcot
Mill while populations remained relatively
constant at Cooper's Meadow (Figure 1).
An indirect, secondary effect which
was obvious immediately after the spill was
that there appeared to be an explosion in
flatworms (Turbellaria) which dominated
the macroinvertebrate community. This
was assumed to be a result of Turbellaria
scavenging upon the corpses of deceased
arthropods, but this indirect response has
not been reported previously, highlighting
the difficulties of extrapolating from classical
controlled experimental conditions to the
field. Shortly after the pesticide spill an algal
bloom was observed, with the river bed and
macrophytes being covered in a carpet of
algae, which were probably released from
the grazing pressure previously imposed
by grazing arthropods, and this has been
observed experimentally (B rock et al., 1992).
The ongoing research on the River Kennet is
the first that we know of which uses a natural,
whole ecosystem approach. The immediate
and long term effects of the pesticide on a
natural multilevel river community will be
revealed as well as it's interactions with other
stressors present within the system.
The fact that it was citizen scientist
volunteers who first detected this acute
perturbation to a riverine ecosystem is likely
to be an increasingly familiar phenomenon
as their numbers continue to swell in both
the UK and further afield. The Riverfly
Partnership (
www.riverflies.org)
has been
training and co-ordinating volunteers to
monitor British waterways since 2007.
In that time they have amassed at least
1200 active volunteers who monitor 750
sites distributed across the UK. Riverfly
monitors have been the first to report other
pollution incidents, for instance the River
Wey had much of its insect life wiped out
by a chlorpyrifos spill in 2002 which was
picked up by local citizen scientists. Similar
scenarios have played out on the River
Wandle, the River Girvan and probably many
more. Riverfly Partnership volunteers are
fast becoming an integral part of the network
of people which watch over British rivers,
in parallel with the established regulatory
authorities and scientific communities.
Acknowledgements
This article was written with input from
Murray Thompson & Guy Woodward
(Imperial College) and Charlotte Hitchmough
(Action for the River Kennet, ARK). Thanks
go to the wider ARK for the use of their data,
photos and time, and also to the Riverfly
Partnership for their input to this article.
Clare Gray
References
Brink, P. J. van den, Wijngaarden, R. P.
A. Van, Lucassen, W. G. H., Brock, T.
C. M., & Leeuwangh, P.
(1996) Effects of
the insecticide Dursban 4e (active ingredient
chlorpyrifos) in outdoor experimental
ditches: II. Invertebrate community
responses and recovery. Environmental
Toxicology and Chemistry15(7): 1143–1153.
Brock, T. C. M., Vet, J. J. R. M.,
Kerkhofs, M. J. J., Lijzen, J., Zuilekom,
W. J. Van, & Gijlstra, R.
(1993) Fate and
Effects of the Insecticide Dursban® 4E in
Indoor Elodea-Dominated and Macrophyte
Free Freshwater Model Ecosystems : III.
Aspects of Ecosystem Functioning. Archives
of Environmental Contamination and
Toxicology169: 160–169.
Brock, T. C., van den Bogaert, M., Bos,
a R., van Breukelen, S. W., Reiche,
R., Terwoert, J., … Roijackers, R. M.
(1992) Fate and effects of the insecticide
Dursban 4E in indoor Elodea-dominated
and macrophyte-free freshwater model
ecosystems: II. Secondary effects
on community structure. Archives of
Environmental Contamination and Toxicology
23(4): 391–409.
Gray, C., Baird, D. J., Baumgartner, S.,
Jacob, U., Jenkins, G. B., O'Gorman,
E. J., … Woodward, G.
(2014) Ecological
networks: the missing links in biomonitoring
science. Journal of Applied Ecology, n/a–n/a.
doi:10.1111/1365-2664.12300
Pusey, B. J., Arthington, A. H.,
& Mclean, J. (1994) The Effects of
a Pulsed Application of Chlorpyrifos
on Macroinvertebrate Communities in
an Outdoor Artificial Stream System.
Ecotoxicology and Environmental Safety27:
221–250.
Thompson, M. S. A., Bankier, C., Bell,
T., Dumbrell, A. J., Gray, C., Ledger,
M. E., … Woodward, G.
(n.d.) Geneto-ecosystem impacts of a catastrophic
pesticide spill: a proof of concept. Freshwater
Biology.
Wijngaarden, R. P. A. van, Brink, P. J.
van den, Crum, S. J. H., Brock, T. C.
M., Leeuwangh, P., & Voshaar, O. J. H.
(1996) Effects of the insecticide Dursban 4E
(active ingredient chlorpyrifos) in outdoor
experimental ditches: I . comparison of
short-term toxicity between the laboratory
and the field. Environmental Toxicology and
Chemistry15(7): 1133–1142.